Menu
Starters
Murph's Famous Bloody Mary Oyster Shooters 4.99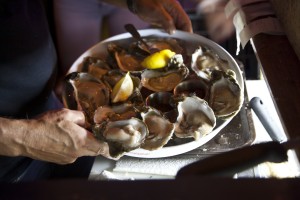 A Plate of Deviled Eggs with Redneck 'Caviar' 4.99
Oysters Rockefeller with Crab, Spinach & Hollandaise 13.99
Garlic Snails with Chorizo, Sweet Wine & Grits 8.99
Grilled Giant Prawns with Chili, Lime & Garlic 5.99 each
Chalkboard Oysters or Clams with Camp Mignonette mkt
Maryland Spiced Shrimp, Peel'n'Eat 1/2 lb 9.99
Bowl of Mussels with Melted Leek Broth 12.99
Pan Fried Lump Crab Cake with Slaw & Lemony Mayo 11.99
2 Mini Maine Lobster Rolls 8.99
Salad & Soup
Camp Salad with Candied Pecans Sm 4.99 Lg 7.99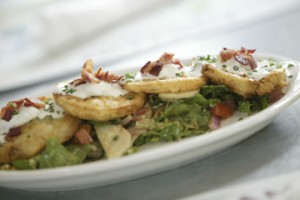 Fried Green Tomato Salad with Goat Cheese, Country Ham
Crisps & Buttermilk Dressing Sm 6.99 Lg 9.99
Grilled Romaine Caesar with Fried Shrimp Skewer 9.99
New England Clam Chowder with Applewood Bacon 5.99
Randal's Seafood Stew 5.99
Naked Fish
Comes With 2 Sides & Choice of Sauce: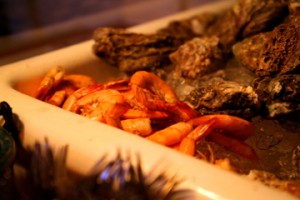 (lemon-Caper Butter, Brown Butter Hollandaise, Green Tomato Salsa or Fish Camp Tarter)
Today's Market Fish Grilled, Blackened or Fried mkt price
1 lb Butter Poached & Broiled Lobster Tail 36.99
Alaskan King Crab Legs mkt price
Sandwiches
Comes with Old Bay Fries or Slaw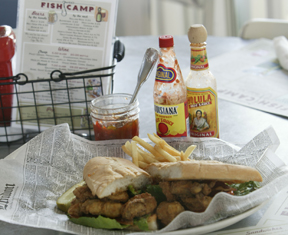 Fried Soft Shell Crab BLT with Basil Mayo 13.99
Really Good Burger with Pimento Cheese 11.99
Crispy Fish with Lettuce, Tomato & Tartar Sauce 11.99
Oyster Po'Boy with Bacon, Remoulade & Pepper Jelly 10.99
Pulled BBQ Pork on a bun with Slaw 9.99
2 Grilled Kosher Beef Hot Dogs 7.99
Fish Tacos with Green Salsa & Spicy Baja Sauce 13.99
Baskets
Fish'n'Chips with Fries & Cole Slaw 13.99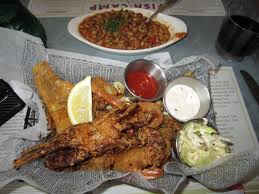 Fish Camp Basket; Fried Oysters, Shrimp, Fish, Soft Shell
Crab, Fries & Slaw 19.99
Fried Soft Shell Crab with Fries & Slaw 21.99
Fried Oyster or Shrimp Basket with fries and slaw 15.99
Fried Oyster or Shrimp Basket 15.99
Low Country Boil
For 2: Crab Legs, Shrimp, Mussels, Clams, Andouille Sausage, Potatoes & Corn 45.99
Plates
Flat Iron Steak with Hollandaise & Fries 18.99….add Shrimp Skewer 22.99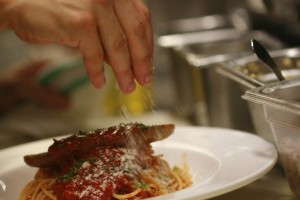 Pasta Jambalaya with Crawfish, Shrimp, Chicken & Andouille 18.99
Crispy Chicken: Vidalia Onion-Bacon Vinaigrette, Green Bean & Potato 15.99
Seared Sea Scallops with Braised Pork & Ownens Succotash 23.99
Shrimp & Grits with Smoked Sausage 17.99
Steamed Mussels with Spicy Tomato, Garlic, Wine & Angel Hair Pasta 16.99
Lobster Cobb Salad Avocado, Bacon, Egg, Tarragon Vinaigrette 18.99
Cornmeal Crusted Catfish with Spicy Collards, Bacon & Grits 16.99
A Nice Plate of Grilled Vegetables + Succotash… Without Bacon 13.99
Sweets
Apple Pie with Vanilla Ice Cream 7.99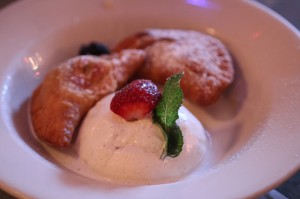 Bourbon Pecan Pie with Fresh Cream 7.99
Key Lime Bar with Fresh Whipped Cream 6.99
Fried Black Cherry Pie with vanilla Ice Cream 7.99
Capt Eli's Root Beer Float 4.99
Mississippi Mud Pie 7.99
Sides
Black Eyed Peas & Andouille Sausage 3.99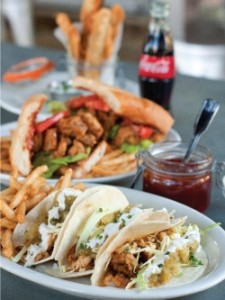 My Way or The Highway Cheesey 'Grits' 2.99
Parsley Potatoes 3.99
Spicy Local Collard Greens 3.99
Owen's Succotash 3.99
Garlicky Green Beans 3.99
Camp Cole Slaw 2.99
Garlic Pasta 3.99
Old Bay Fries 3.99
Garlic Bread 1.99
Jars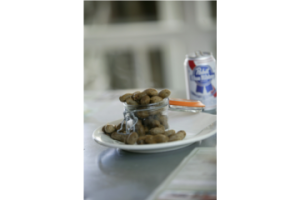 Boiled Hot Roadside Peanuts 2.99
Smoked Fish Spread with Saltines 7.99
Fried Dill Pickles 6.99
Consumer Information: There is a risk associated with consuming raw oysters. If you have chronic illness of the liver, stomach or blood or have immune disorders, you are at greater risk of serious illness from raw oysters, and should eat oysters fully cooked. If unsure of your risk, consult a physician.